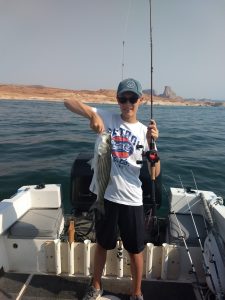 Luek are Guest from Switzerland – Wanted to catch a Striper
He caught 24 on a 1/2 day trip!
The Pros for Fall and Winter
The fish are mostly in prime condition.  They will be feeding on the top water better this year and on the lower end this year.  When the water temperature gets closer to 70 degrees and better yet around the 66 degree mark we are excited as it's Zara Spooks and Streamer Fly time which is still to come.

Lake Powell CONS
Our Lake is dropping a foot a week as the Bureau of Reclamation tries to salves Lake Mead shortage due to the impending drought still the in West.  What this probably means is that the Castle Rock Cut will close again and that will add an extra 24 miles (round trip) to head up Lake Powell having to go around Antelope Island and that equates to extra fuel and oil cost passed on to the customer.  At the moment, we can reach Padre Bay fishing ground in 30 minutes for a 1/2 day Charter trip cost.   I expect a price increase from everyone going into the coming year unless we are blessed with a great snow pack in the Colorado & Wyoming Rockies.
In years past, we have to run for the quality fish as the lower water put a big stress on the bait fish due to lack of brush cover for their safety.  We are pulling up older maps to the "then lower water times" that bait fish will frequent like deep cove pools with lots of sunken tumbleweeds and such.
We still run the 24′ Tritoon and the 24′ Walk-Around for the main channel longs runs up lake and like the last low water episode, don't let the "Fake News" keep you away from fishing due to the drought because if the fish have to leave a Bay or Canyon, they will be forced to concentrate more in the River Arms and Main Channel which is 300-400′ deep.  We will be CATCHING!!!!
Fall Fishing is booking out Fast and if you are a Spring Fishing Angler, book now as we are filling up for 2019.Tight Lines,
Capt Bill