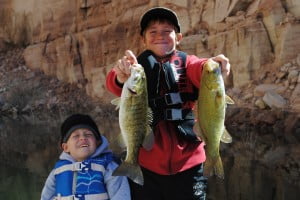 By: Wayne Gustaveson                         April 7, 2010
Lake Elevation: 3619                           Water Temperature 52-56 F
 
The first largemouth bass has been seen tidying up a nest site.  That heralds the beginning of spring fishing excitement. The largemouth bass spawn during the next 4 weeks will create indelible fishing memories for those lucky enough to be fishing on those magic days when bass are visible in shallow clear water, and eager to chase anything that comes near the nest. Bass spawn every year, but this year the average size of bass caught will exceed any yearly average in the recent past.  The spawning peak will come during the warmest five consecutive days in late April unbroken by a cold front. Bass continue to spawn in May but spring runoff will raise the lake, cloud the water and make finding nesting bass much harder. If your bucket list includes catching a 3-6 pound largemouth bass then a spring trip to Lake Powell is mandatory.
 
Largemouth live in the brush that rings the shallows around the lake. They go very shallow on warm afternoons and are very spooky when approached. It takes a very stealthy cast to catch them shallow before they spawn.  More often they are in thick cover.  Lures bouncing through tree limbs get their attention. The lure must stop for a while to entice a bite. So use big baits with lots of surface area that settle slowly to the bottom for best results.  When bass are on the nest they are much easier to catch. A slow settling, weightless bait, like a plastic senko is ideal. 
 
Many big fish will be caught on beds this spring.  Male bass guard the nest. Male bass should be returned to protect the young eggs and fry on the nest. Put them back right where they were captured and then watch them go right back to the nest site. It is fine to take a picture, weigh and measure the fish first.  An exact replica of a huge fish can be done in fiberglass just from the length and girth dimensions. Expect to catch a big one but be ready to record the feat before a quick release.
 
Female bass are the ones that should be targeted for harvest if desired.  Better yet keep smallmouth bass which are more abundant. Crappie will spawn during the same time frame. This spring will offer the best crappie fishing seen at the lake for a very long time.  Be aware of the 10 fish crappie limit.  Keep enough for a meal but not enough to stock the freezer.  Largemouth and crappie have returned to prominence because of the ephemeral brush ring around the lake.  When the brush disappears in the next few years their populations will decline as well. That is whey they are still cautiously protected when they appear to be available in large numbers.
 
Striped bass remain in the backs of the canyons. Small stripers are in the upper 15 feet while larger fish are now becoming more active in the deeper water (15-35 feet).  Trolling is still the best method to catch them.  Shallow running (6-12 feet) small baits take small fish at a fast pace.  Deeper running (20-30 feet) lures take the 3-4 pound fish at a slower rate. Fishing with spoons and jigs on the bottom near schools seen on the graph is improving every day. There is still no movement of stripers to the main channel and there have been few fish caught on bait. Fat stripers like action baits and will show little interest in a passive anchovy. If bait is your choice then try slow trolling a whole anchovy on a salmon mooching rig in 35 feet of water.
 
There is more than can be said but the bottom line is that fishing will be remarkable in 2010.