Wayne Gustavson (Waynes Words) Fishing Report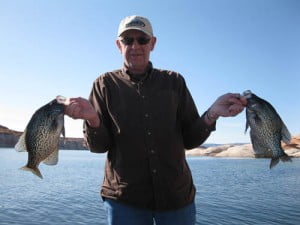 Richard Laycock, Cheyenne, WY
March 24, 2010
Lake Elevation: 3619
Water Temp:    49-54 F
Lake level has been stable for two weeks. Water temperature has risen briefly but wind today puts it right back at 51 degrees this morning. With these important variables unchanged there is no reason for fish behavior to change. That means successful fishing methods during the past two weeks will continue to work until a significant change occurs.
Here is what to expect. Larger stripers are lying on the bottom waiting for warmer water or for a fish to swim by their resting spot. Deep trolling will put the lure in the zone but it is essential that the lure is in close proximity or even bumping bottom on occasion. Lure contact on bottom in the resting zone is the best way to rouse a sleepy striper. Down riggers or deep diving lures that get down at least 20 feet are best for larger stripers.
The other technique is to drop lures down to resting stripers seen on the graph. Spoons are the standard but I find them to be too active right now for really lethargic stripers. A better choice is a one-ounce or heavier marabou or bucktail jig with soft plastic trailer attached. Drop the jig to the resting school and then slowly work the bait right in the school. One fish biting will excite others and cause a quick flurry of activity in these schooling fish that are programmed to react to feeding by school mates.
Ice fishing techniques may work on these resting schools. Put an anchovy tail on a small spoon and work that slowly in the school. Or use the drop shot rig favored by bass fishermen. The key is to put a slow-moving tasty morsel near the dormant school to catch fish.
I prefer catching active fish. Yearling stripers are near the surface eating plankton. They will react to small lures zipping quickly through the plankton school. Three inch lures that dive from 4-8 feet trolled at 3.5 or 4 mph work best. The best lure for me has been the Lucky Craft Pointer 78. The Lucky Craft Bevy Shad 75 has been a close second. The consistent location is near the back of the canyon where water is off color and bottom depth is between 18 and 25 feet. Make sure to troll fast – at least 3.5 miles per hour.
Bass fishing is great for big fish. That means not many little bass are caught and time between bites may be lengthy, but each bite that comes is from a quality bass. Successful techniques are centered in the shallow brush zone along the shore. Spinner baits, bulky soft plastics like Yamamoto Flappin Hogs, or the old standard Jig and Pig (pork rind) work for bass up to 6 pounds.
Forage has been such that largemouth have grown to impressive size. It would not surprise me to see the lake record 10 pound 2 ounce largemouth record fall in 2010. The smallmouth record of 5 pounds 6 ounces is in real jeopardy. Take a scale along this spring in case you are the lucky angler. It would be nice to know if the huge fish in hand should be released or brought in for an official weigh-in ceremony.
The real fun is a few weeks away. The best spring crappie fishing in decades will begin in April. That will be the highlight of the spring for me.
If you haven't picked up on it yet, fishing at Lake Powell is going to be really good in 2010.