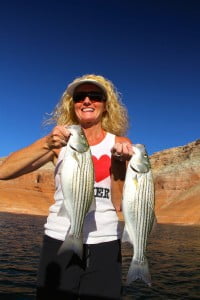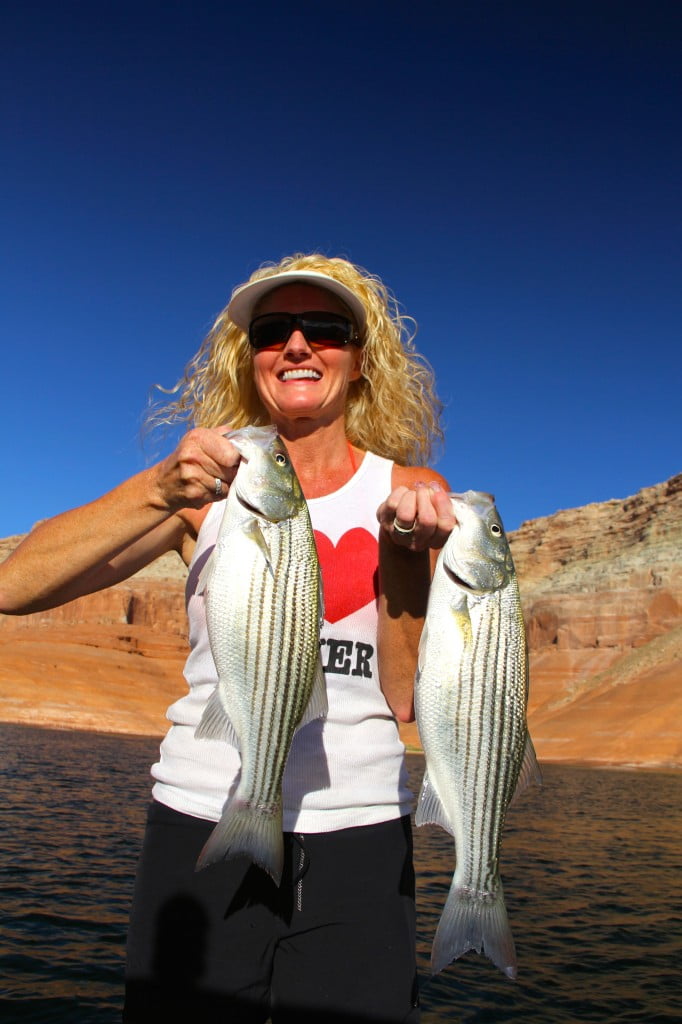 Caption: Raquel Dibble, Perry UT, displays some very healthy stripers caught this week from boils. Cooler temperatures allow stripers to come to the surface to feed on shad that have been hiding in the warm surface waters. Boil fishing should be good through October.
Lake Powell Fishing Report September 30, 2014 Lake Elevation: 3605 Water Temperature 73-77 F
Just blew the hot water lid off of Lake Powell. The long hot summer kept the surface temperature above 80 degrees until the rainy cold front arrived this past weekend. Now instead of daytime air temperatures reaching 90 degrees the temperature is now a much more comfortable 70 degrees. Morning air temperature is now in the 50s. We put on our coats and headed out at first light this morning. We saw no boils in Warm Creek so we headed uplake. There were no boils at the mouth of Gunsight so we kept driving. This was getting depressing because I was sure the cooler water temperature would allow stripers to attack shad that had been peacefully feeding on the surface. On calm evenings for the past two weeks hundreds of schools of shad could be seen feeding in the open water of the main channel with only an occasional game fish rising up to chase them. It was amazing to see that many shad with no stripers in attendance.
Next we rounded the corner of Gregory Butte trying to decide whether to go to Rock Creek or Last Chance when a school of big stripers attacked a shad school right in front of us. In early September we had been catching stripers smaller than 16 inches on top in the warm surface water. But these fish were different. The first two fish hooked were both over 3 pounds and so strong we could not get them in the boat before the school went down. We just had to play these fish and watch the rest boil while we reeled them in. The school came up quickly 2 more times and we caught more big fish each time they surfaced. The largest striper weighed 4.5 pounds. That was worth the trip but we weren't done.
We headed into a nearby Last Chance cove and found the yearlings boiling. They were easier to catch and land quickly so we caught another 10 on top. When they went down we followed them with spoons between 40-60 feet and caught more. At 9 AM this action stopped so we headed back down lake. Back at Gregory Butte the big fish boiled in the main channel twice more and we caught 2 out of each boil. Fall fishing has officially arrived. Stripers are boiling from dawn to 10:30 AM. There were reports of more 3-4 pound boiling fish in Rock Creek during the same time that we were catching fish in Last Chance. We caught plenty of smallmouth bass on top water and shallow running cranks that were feeding right with the stripers in the coves. It is likely that random boils continued through the day and then build again during the last hour of daylight. The cooler surface temperature is what the stripers have been waiting for. If planning a trip for boiling stripers now is the time.